1 minutes reading time
The risk that trusted insiders (those with authorised physical and IT access within organisations) can carry out intentional or unintentional actions which causes significant financial, reputational, legal, or regulatory harm to an organisation is very real. Mitigating insider risk requires a sophisticated, flexible insider threat programme tailored to the unique circumstances of each individual organisation to safeguard critical data, assets and intellectual property.
CDS DS has been embedded with and at the forefront of cross-UK Government insider threat programmes for 10 years, designing and delivering what is considered to be one of the largest insider threat programmes in Europe.
We have extensive experience in the breadth of roles considered by the world's leading research authority on insider threat and risk (Carnegie Mellon) to be essential in developing programmes to prevent, detect and respond to insider threats. We are also active members of the Carnegie Mellon Software Engineering Institute community.
CDS DS can provide United States Computer Emergency Readiness Team (US-CERT) certified insider threat programme managers, evaluators and analysts to offer you the full range of roles, skills and experience recommended by Carnegie Mellon to enable you to understand and minimise insider risk.
We enable success by driving coherence, alignment and sharing best practice. We are helping to shape global insider risk thinking which enables organisations to identify and protect their critical data and assets through state-of-the-art threat detection and monitoring strategies.
Tackling Insider Threat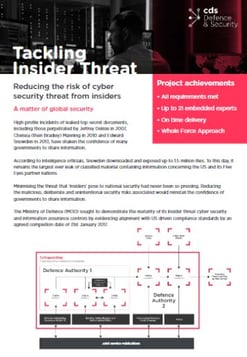 Join us at DPRTE - The UK's Leading defence procurement and supply chain event.
Book an appointment to meet our experts in defence on the 29th March 2023 at Stand 37.