CDS Defence & Security announces successful acquisition of Ubi-Tech
2 minutes reading time
Cheltenham based defence consultancy CDS Defence & Security (CDS DS) has today (17th December 2021) announced the successful acquisition of Redditch based Ubi-Tech (3R).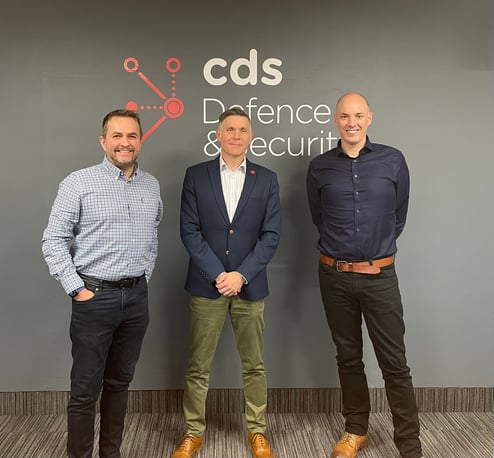 L-R: CDS DS Managing Director Richard Bradley, Ubi-Tech Managing Director Richard Lee and Bailie Group CEO Fergus Bailie
Established in 2012, Ubi-Tech was formed by members of the British Armed Forces, initially to provide resettlement training for service leavers wishing to pursue a second career in the telecommunications industry. Today, they are a specialist telecommunications training organisation, providing consultancy and bespoke training for leading providers within the industry.
This acquisition is the first for CDS DS, which forms part of the Leeds based Bailie Group, and adds another service based vertical to their roster of capabilities including Support Engineering, Training & Learning Development, Operational Support and Cyber Security & Information Assurance services.
In order to ensure continuity of delivery for existing clients and students, Ubi-Tech will remain as a separate entity within CDS's larger Training and Delivery business.
Richard Bradley, Managing Director of CDS DS, said of the acquisition:
"CDS DS and Ubi-Tech have worked closely together for a number of years, delivering significant, high profile programmes of work – most recently for the British Army. During this time, the synergies between our work in training analysis and design, and theirs in training delivery became increasingly clear.
As part of our ambitious growth strategy, we look to work with the best partners in the industry and make lasting connections, and we're delighted to be able to add Ubi-Tech and their complementary capabilities to our existing network in order to create the greatest value for current and future customers.
The experience and unique skills of their training delivery team, combined with their exemplary reputation within the sector, made Ubi-Tech the clear choice to begin our acquisition journey and we are genuinely excited about welcoming them into the CDS DS fold."
Welcoming the announcement, Ubi-Tech owner and Managing Director Richard Lee added:
"We have been working successfully with CDS DS for several years now, developing a clear understanding of the values and vision our two companies share whilst working to mutually benefit the interests of us and our customers. This acquisition will see Ubi-Tech enter a new phase of growth and development which will greatly benefit our employees, customers, corporate partners, and will build on existing and new business opportunities.
Ubi-Tech (3R) Ltd remains a separate legal entity to CDS DS therefore it is 'business as usual' with an exciting future ahead of us. I would like to take this opportunity to thank the fantastic team at CDS DS for their warm welcome and for helping to make the acquisition process a seamless one."
CDS Defence & Security is an organisation with a deep understanding of engineering, training & learning and cyber security & information assurance within the defence and security sector.
We use this knowledge to improve your organisation's operational effectiveness, maximise people performance and reduce risk. For more information, visit www.cdsds.uk